A motorised horizontal pergola system with glass walls and adjustable or retractable blades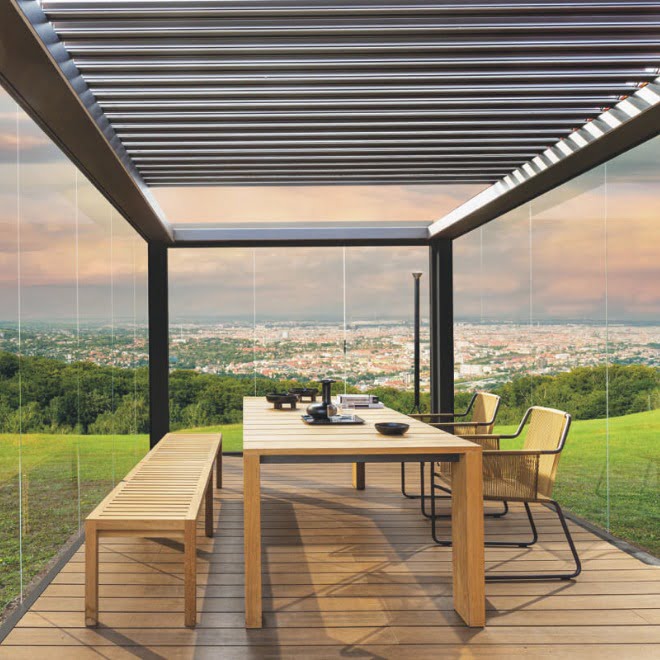 The Connect Glass Room is the newest product released by Italian manufacturer Pratic, with a design that brings together the essence of open-air life with the pleasure of total privacy.
Choose between either the Opera Connect with adjustable blades or Brera Connect with fully retractable blades and pair with mirrored or smoked glass walls to create a modern house or restaurant extension.
With the rise of remote working, the Connect is certain to be a popular choice for creating covered outdoor seating areas, office pods or home gyms that stand out.
As with all of ArcCan's standard products, the Connect Glass Room Pergola is guaranteed for 10-years against heavy rain, wind and snow, and with a 20-year minimum life expectancy, you have the assurance you are investing for the future.
Sunshade blades system that tilts and becomes compact by remote control
Custom colours
Blade colours
Integrated LED lights with RGB light
Smoked or mirrored glass
Raso blinds
Temperature, rain and wind sensors
Warranty: 10-years on the structure, 2-years on the electrics
Structure Framework & Finish: Aluminium, polyester powder coated
Structure Width: Min 1.5m to Max 4.5m
Structure Length: Min 2m to Max 7m
Structure Area: From 3m2
Standard Colours: Iron Grey, Corten, RAL 1013 Ivory Sand, RAL 1013 Ivory Semi-Gloss, RAL 9006 Bright Aluminium Matt, RAL 9006 Grigio Sable, RAL 9010 White Semi-Gloss and RAL 9016 White Sand
Custom Colours: Tiger Coating Class 2, RAL Other
Fully Retracting Roof: Yes
Free Standing: Yes or Wall Mounted
Available Fabric: PVC Precontraint 622 Fire-Resistant Waterproof
Modular Structure: Yes
Sides Available: Yes
Gutters: Yes