Landsdowne Barrel Vault Entrance Canopy
A tensile fabric barrel vault canopy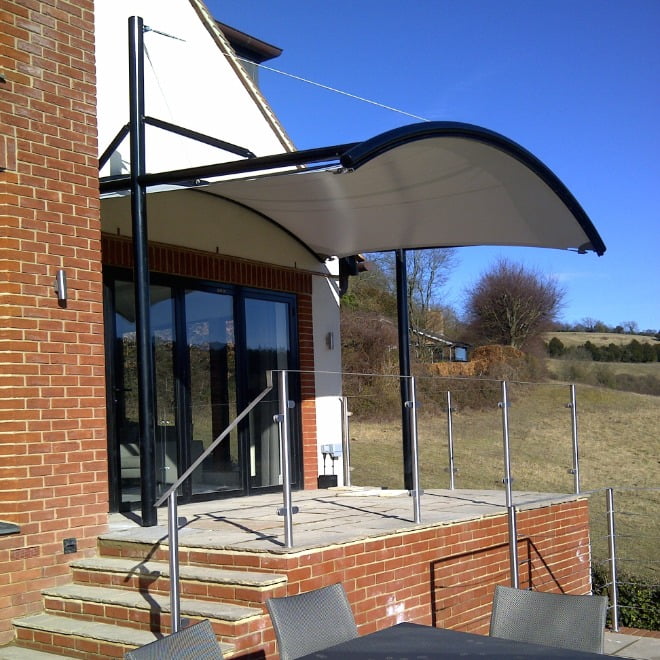 Have you always wanted to make the entrance to your facilities more visually appealing? The Lansdowne has been designed specifically as an entrance canopy, with just two columns, one either side of the doorway, the structure can be independently sited or if preferred attached to the wall above the entrance as well.
This barrel vault canopy is fabricated from H/D tubular steel with a patterned tensile fabric canopy and is stabilized with stainless steel cables attached overhead, making it an interesting and stylish portico.
Aside from an entrance canopy, the Landsdowne could also be a fantastic shading solution for a variety of other uses including spectator seating at sports stadiums or outdoor performance spaces, or even as waterproof shelter over a car park.
As with all of ArcCan's standard products, the Landsdown Entrance Canopy is guaranteed for 10-years against heavy rain, wind and snow, and with a 20-year minimum life expectancy, you have the assurance you are investing for the future.
Wide range of fabric colours available
Fully adaptable including custom designs
Warranted for ten years under tension
ArcCan installation teams operate Worldwide
Warranty: 10-years on all parts
Structure Framework & Finish: Steel shot blast, zinc sprayed and polyester powder coated to any standard RAL or BS colour
Structure Width: From 4m
Structure Length: From 3m
Structure Area: From 12m2
Canopy Style: Barrel Vault
Free Standing: Yes
Available Fabric: PVC-Coated Waterproof
Modular Structure: Yes
Sides Available: Yes
Gutters: No (optional)