Rialto Retractable Roof Pergola
A motorised retractable roof horizontal pergola system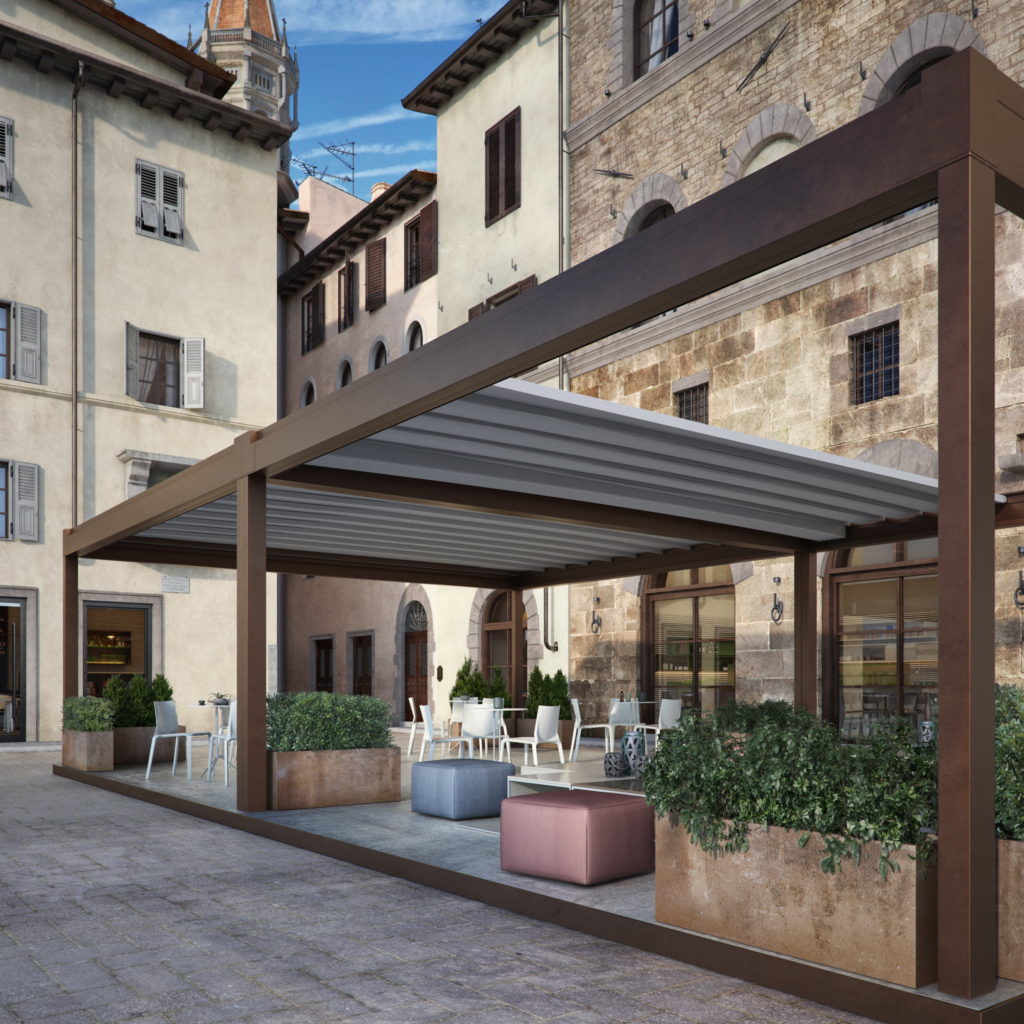 The Rialto is a stunning shade structure with a retractable roof that offers the practicality of all-weather protection with modern elegance.
With an aluminium frame, stainless steel components and integrated gutters, the Rialto oozes sophistication and is available in a freestanding or wall-mounted configuration. This retractable roof pergola can span a maximum width of 5.5 metres and a maximum depth of 7 metres as one unit but can be extended to any length or depth by adding more units.
The Rialto is suitable for any location looking for a sleek and contemporary shading solution and would offer an improvement in restaurant and hotel outdoor dining areas and outdoor kitchens & BBQ areas in private homes to name just two examples.
The minimum size profiles and compacted blades mean that this retractable roof pergola can be easily inserted in inner courtyards and in pre-existing spaces with minimal disruption. The Rialto framework comes powder coated in Iron Grey as standard and there is a wide range of optional colours at additional cost. If fabric side awnings are desired to enclosure the structure, opt for the Nomo which features built-in Raso blinds as standard.
As with all of ArcCan's standard products, the Rialto Retractable Roof Pergola is guaranteed for 10-years against heavy rain, wind and snow, and with a 20-year minimum life expectancy, you have peace of mind that you are investing for the future.
Custom colours
Blade colours
Sliding glass doors
Sliding framed glass doors
Pareo fixed panels
Automation
Warranty: 10-years on the structure, 2-years on the electrics
Structure Framework & Finish: Aluminium, polyester powder coated
Structure Width: Min 1.5m to Max 5.5m (One unit)
Structure Length: Min 2m to Max 7m (One unit)
Structure Area: From 3m2
Standard Colours: Iron Grey
Custom Colours: Tiger Coating Class 2, RAL Other
Fully Retracting Roof: Yes
Free Standing: Yes or Wall Mounted
Available Fabric: PVC Precontraint 622 Fire-Resistant Waterproof
Modular Structure: Yes
Sides Available: Yes
Gutters: Yes