Client Brief: Stunning Covered Walkway

A1(M) Services Wetherby, West Yorkshire
The Brief
JWA Architects contacted us to design, supply and install a waterproof covered walkway in the area adjacent to the food and retail outlets in the external courtyard.
Moto wanted to see an increase in footfall and dwell time as they knew it would maximise the occupants' sales potential, including Cornish Pasty Co and WH Smith. The canopy was also to act as a covered walkway link to and from the main building to reduce travellers exposure to bad weather.
The lead Architect had envisaged four or five hypar shade structures to provide cover in front of sales kiosks sited outside the main entrance of the Moto Services at Wetherby on the A1(M), a stylish solution. Still, it would have resulted in up to 20 columns placed in a relatively small area and this would not have been practical.
The Solution
ArcCan already had a design on the drawing board for a multi-hypar structure that needed far fewer columns, leading to the quad Mayfield visible at Moto today, a structure with only five columns yet 24 metres long x 6 metres wide. The membranes are tensioned within a cruciform tubular frame comprising curved arches with inverted arches on top. The loads imposed by the canopy are then kept within this frame and the need for extra columns is avoided.
The client wanted to minimise the amount of time on-site, which was understandable as they didn't want the installation to cause a disruption to what is a busy motorway services open 24/7. This meant installing the vast structure at night when the footfall was at its lowest.
Despite the tight timescales, our installation team completed the project on time and within budget. Incredibly, the ArcCan team of six completed the work in just one night – quite a feat given the size of the structure!
This tensile fabric structure with arched hypars provides an aesthetically pleasing covered walkway and most importantly, an all-weather shading solution that will be a lasting asset to the services facilities. The feedback that we received from both the architects and Moto upon completion was very complimentary.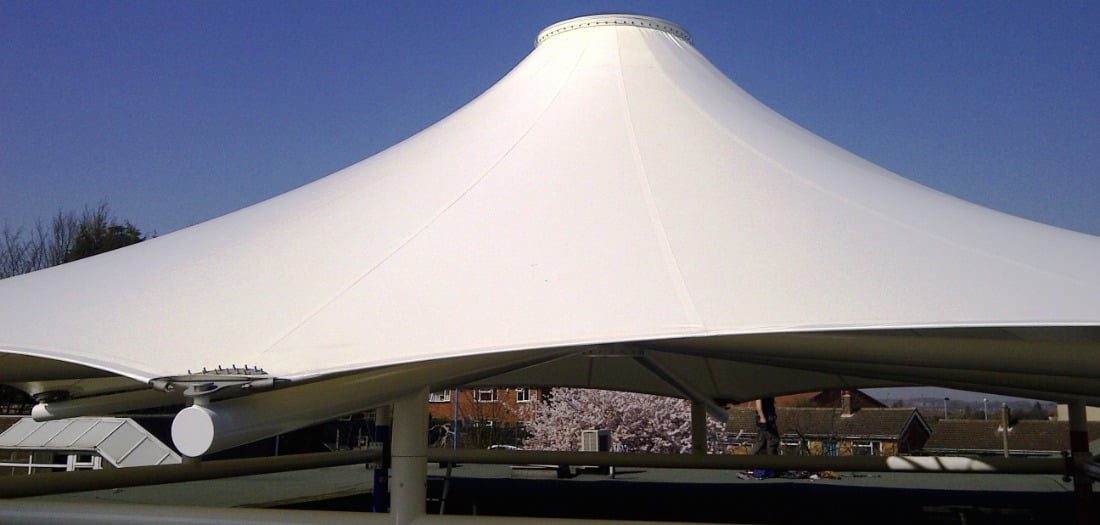 If you are looking to create an area of cover that simultaneously acts as a sunshade and a fully waterproof solution - then we would love to hear from you. Contact us today to find out how a tensile fabric canopy can enhance your outdoor space.