Considering a Garden Canopy? Ask Yourself These Questions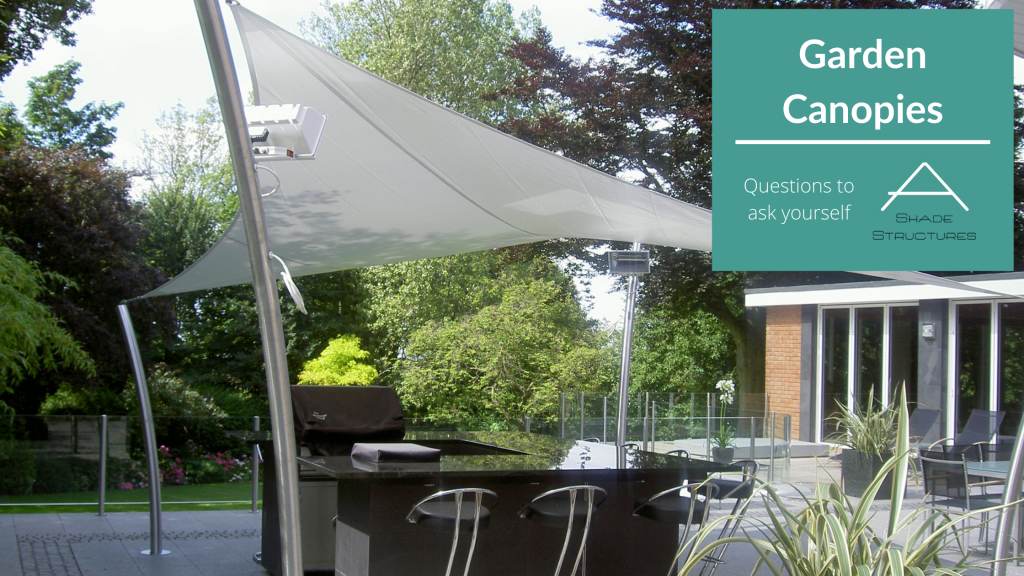 Installing a garden canopy is one of the most common ways of upgrading a private home whether that be with a sail canopy, glass veranda or retractable roof pergola.
When done right, a canopy is a fabulous addition to any garden and will have the benefit of increasing the value of your home. The growing demand for alfresco dining in the UK means that creating a permanently covered outdoor area that can be used all-year round will give your garden the 'wow factor'.
If you are thinking about installing a garden canopy, here are some important questions to ask yourself that will help discover the most appropriate shading solution for you.
What Size Do I Want To Cover?
This is the most obvious place to start and is dictated somewhat by the space available to you and how you intend to use the space. An outdoor kitchen or hot tub, for example, would require a smaller sized structure than if opting for an outdoor dining canopy capable of accommodating a large number of guests for parties.
The usage of the garden canopy will have an impact on the design. An outdoor dining area would most lend itself to a framed structure such as a tensile fabric conic gazebo or retractable roof pergola as they provide the maximum amount of cover underneath the canopy. We have also installed tensile fabric sail canopies to cover outdoor kitchens when the style is the more important factor at play.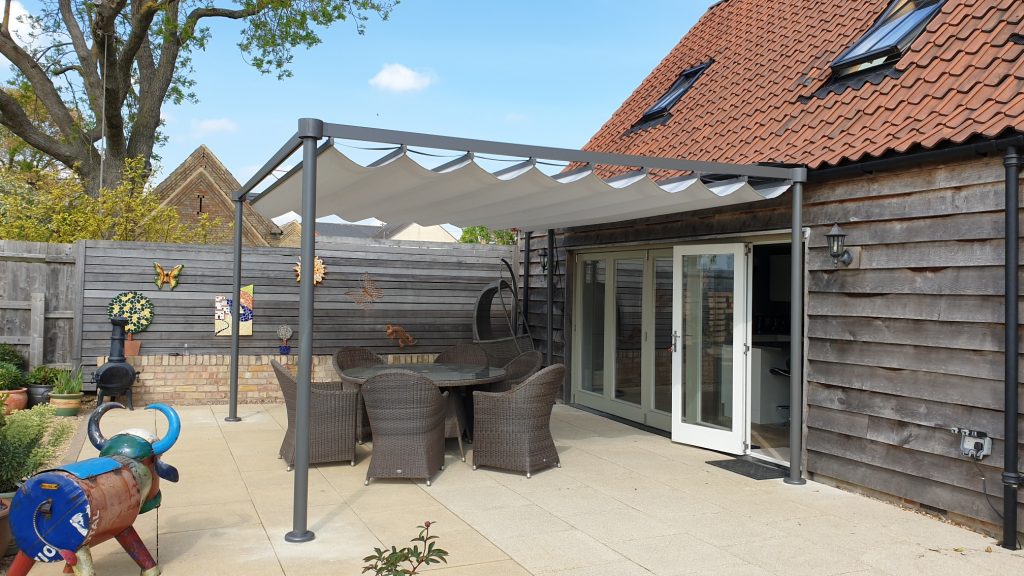 Do I Want Waterproof or Shade Only?
As the name suggests, shade sails consist of a porous knitted shade cloth roof that is brilliant for sun protection – up to 98% UV protection in fact. They are easy to install, and it's recommended that shade sails are stored inside during the winter months to avoid damage from adverse weather.
If you are looking to create an area that is fully waterproof without the chance of damage to the canopy – then a PVC polyester coated fabric is the better choice. Just keep in mind that this fabric is much heavier than a shade sail and is intended to remain under tension permanently without being taken down.
To read more on the differences between shade sails and waterproof fabric structures head to our FAQS page.
Which Accessories Can I Get?
This is where you can transform your garden canopy from something you use ad-hoq to a reliable extension to your home. It's possible to add accessories to all of our structures with side enclosures, heating and lighting add-ons.
Homeowners regularly opt for motorised side blinds to provide a windbreak and extra privacy from neighbours when sitting outside. Infrared heaters are a perfect addition for those sunny but chilly early spring evenings, and LED spotlights or integrated lighting means that the dinner party doesn't have to stop when the sun goes down.
What Is My Budget?
It helps to communicate your budget from the outset as this will guide discussions on products that are suitable for you. We are happy to provide multiple quotes for your garden canopy at different price levels so that you can choose the canopy that meets your budget and design requirements.
As a general rule of thumb, polycarbonate & glass verandas and awnings sit at the lower end of the price scale, with tensile fabric sail canopies & gazebos and retractable or louvred pergolas at the higher end.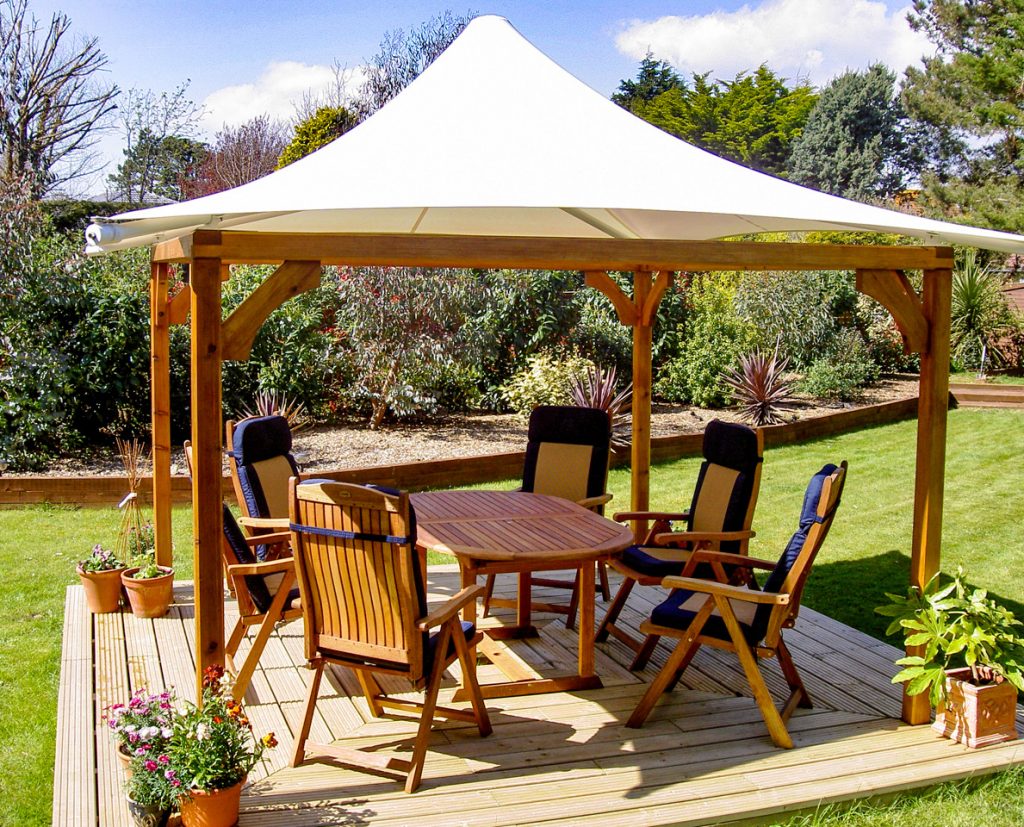 When Do I Want the Canopy Installed?
If your project is urgent in nature and time is of the essence then it may drive your product choice. Lead times vary across our product range and is dependent on the size and whether it's a standard design or a custom job, but our standard lead times are:
Awnings: 4-6 weeks
Polycarbonate & Glass Verandas: 5-8 weeks
Retractable & Louvred Pergolas: 6-9 weeks
Shade Sails & Tensile Fabric Canopies: 6-10 weeks
What Will My Local Planning Authority Say?
Whilst it's unlikely that you will need planning permission to install a garden canopy, it's always worth checking with a planning consultant if you have any doubts. Council regulations vary greatly depending on the region.
Some structures can be easily dismantled, making them a temporary installation, but the interpretation of 'temporary' varies – always check.
Enjoyed this post?
Sign up to our mailing to receive similar insights.