How To Make Your Beer Garden Stand Out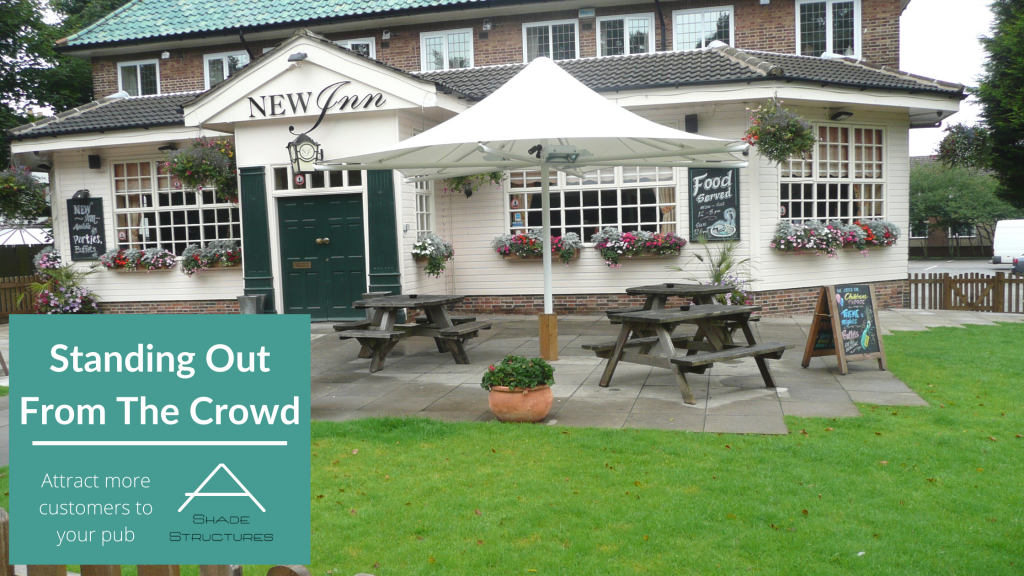 Outdoor dining in the UK is on the rise as more people become aware of the amazing health benefits that it can offer. According to a recent study, 82% of diners want restaurants to continue to increase outdoor seating. But let's face it – the British weather has never been the most conducive to dining outdoors. Yet for many, every sunny day we get results in a swarm of people flocking to beer gardens and restaurant terraces.
It's important to look at ways of improving your beer garden or outdoor seating area because an outdoor space maximises the number of customers you can serve at one time, meaning greater profits, greater atmosphere and exposure to new customers who might not have been before.
Here are some ways you can make your beer garden stand out from the crowd.
Invest in Your Furniture
Pub and restaurant owners that invest in comfortable and durable furniture will likely see an increase in customer dwell times and repeat custom. Cheap plastic chairs won't cut it.
Comfortable seating can make your patio look more appealing and encourage more guests to sit outside, freeing up space in the dining room for people who prefer to eat inside.
Many pubs still opt for classic wooden picnic benches, which are weatherproof and can be kept outside all year round. To go the extra mile, we recommend equipping your beer garden with metal chairs and plenty of cushions that will create an elegant yet practical outdoor seating environment.
Heating & Lighting
When the weather begins to turn, the idea of sitting outside might not sound very appealing. Even on those beautiful long, sunny days it can become chilly in the evening. At ArcCan we offer a range of accessories that will keep diners outdoors, even when its raining cats and dogs.
Our infrared heaters are very easy to install, have very low glare and ensure heat is directed where it needs to be to save energy. Users feel warm and comfortable from switch-on. They come available in a variety of colours and wattages to suit all needs.
Making sure that your beer garden has sufficient lighting is another important consideration. Make sure all corners of the space are evenly lit to make the dining experience more enjoyable for guests. LED festoon lights and lamp posts are a great way to jazz up your patio's lighting. Adding adequate lighting to your patio can help encourage guests to stay longer.
Efficient and cost-effective, they are well worth the investment when it keeps customers outside enjoying themselves long after the sun has gone down!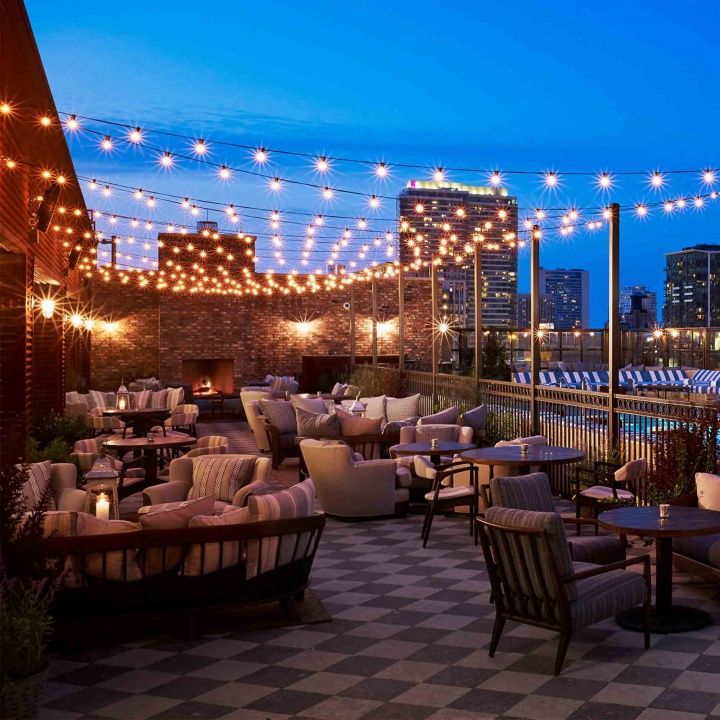 Planting & Decor
Using greenery and colourful art that is visually appealing will be sure to draw more attention to your beer garden. Plants, hanging baskets, and climbing vines are all great options to add to your outdoor dining space.
Chaplin's Bar – known as one of Britain's best beer gardens, has done this really well and transformed a dark enclosed patio into a bustling venue with bright murals, a mock stained-glass arch and the use of wild and healthy planting.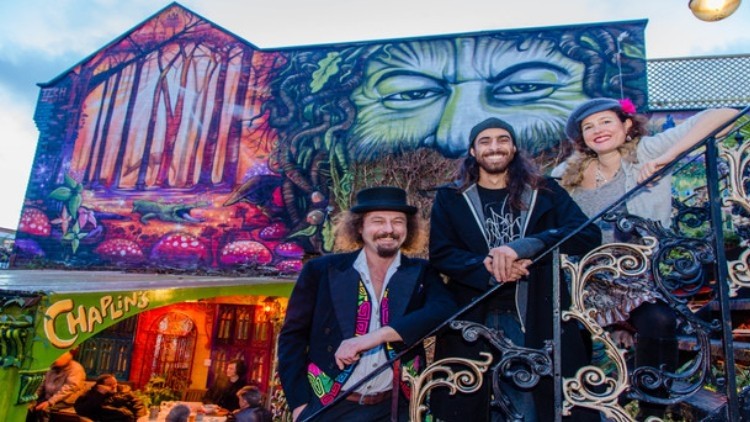 Cover Your Customers (And Investments)
To combat the unpredictable British weather, hospitality venues that have invested in durable and high-quality outdoor structures have seen the value of their property increase significantly, as they have been able to increase the number of covers available to them all year round.
Creating covered outdoor seating spaces has become even more important in the COVID-19 age. As the past 18 months has shown, having a shaded area is of vital importance to pubs, restaurants and hotels that are blessed with a beer garden.
Unlike the other items on this list, purchasing a high-quality outdoor dining structure such as a tensile fabric canopy or retractable roof pergola may not provide significant returns straight away, but the overall return on investment is huge. An ArcCan structure will provide a minimum of 20 years of service.
Creating a covered outdoor area will be popular with all customers, but smokers in particular always love a beer garden canopy and will draw additional crowds to your venue.
As long as people are dry and warm, you will always find people happy to make use of outdoor areas even if the weather isn't great.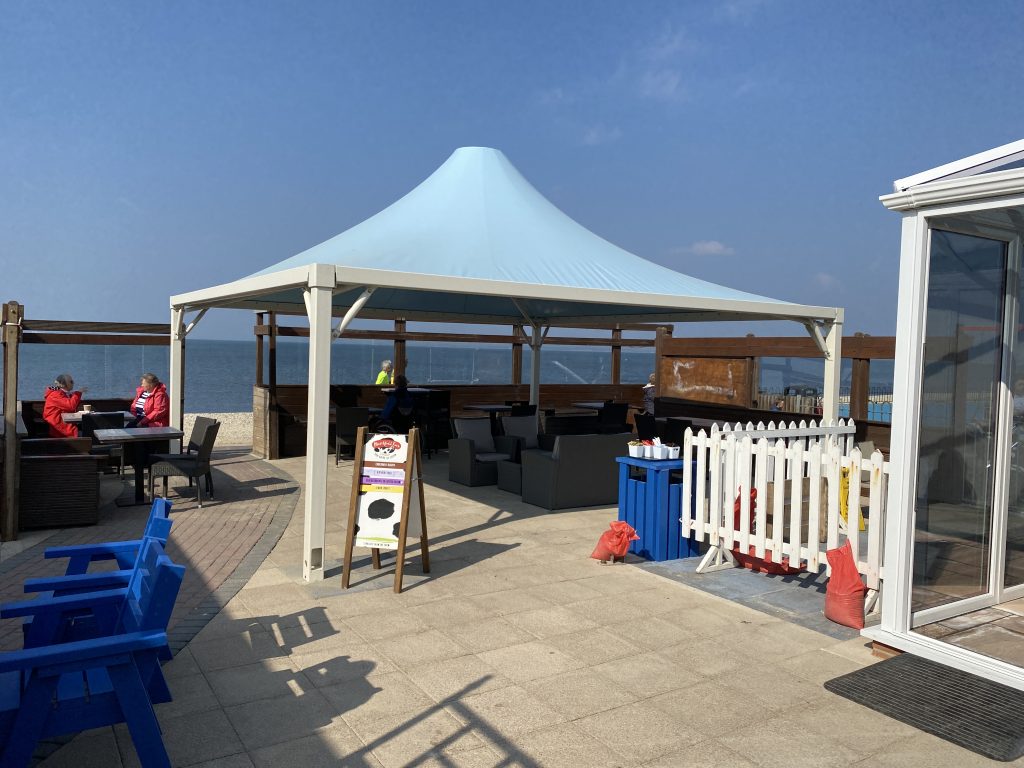 Running to Stand Still
This was just a few of the ways a pub or restaurant could enhance their outdoor seating area. Although the title alludes to 'standing out', such is the quality offered by establishments these days that if you are not improving your furniture, outdoor heating and lighting, distinctive planting and installing some form of shade structure – then you are most likely losing custom to the pub down the road who has invested in these areas.
There's so much you can do to generate interest in your beer garden and it is well worth the time, effort and investment into getting it right.
Need Some Advice on Shades for the Hospitality Sector?
It can be a daunting prospect just knowing where to start when looking for an outdoor dining canopy. Talk to a canopy expert today! We'll meet discuss your requirements and offer the product that is most suitable to you.
Enjoyed this post?
Sign up to our mailing to receive similar insights.