Shade Sails vs Tensile Canopies – Which is Better?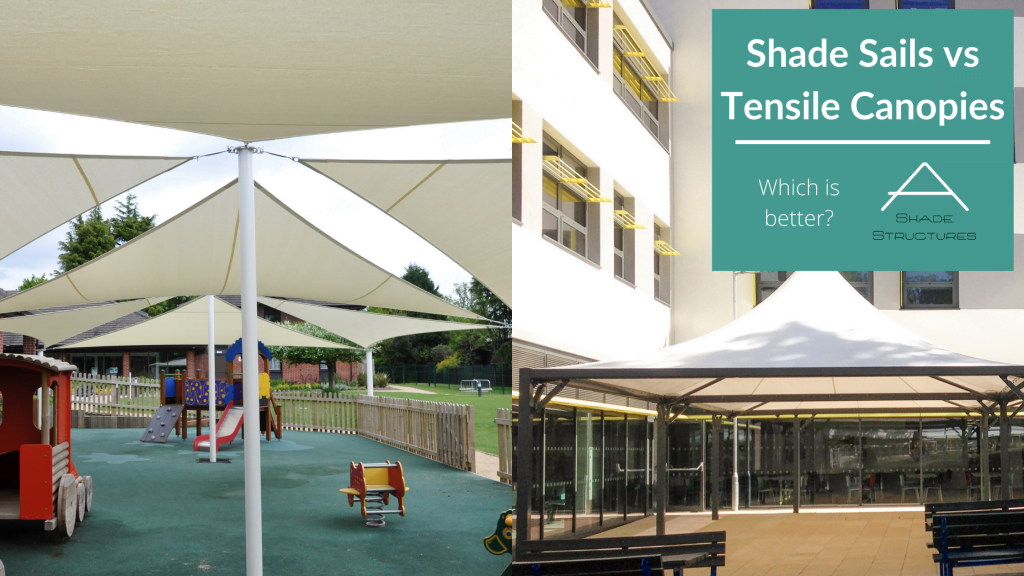 Shade sails (also known as sail shades) and tensile fabric structures (AKA tensile canopies) share some similar characteristics – they are both two examples of shade structures, they usually comprise tensioned canopies on steel posts and are excellent at providing an area of sunshade. They are both also suited to a variety of applications from school playgrounds to town centre squares and public realm developments.
In this post, we outline the key differences between shade sails and tensile canopies and where one might be better suited to your needs.
What Are Shade Sails Made Out of?
As the name suggests, shade sails consist of a porous knitted shade cloth roof that is brilliant for sun protection – up to 97.7% UV protection in fact.
All ArcCan shade sails are fully wind rated and are designed in accordance with AS1170.2 Australian standard with a minimum wind rating of 74mph (118kph).
They are easy to install and maintain, where the strong High Density Polyethylene (HDPE) UV stabilised material of shade sails mean that they don't rot or absorb moisture. The fabric is easy to remove from the posts and it's recommended that shade sails are stored inside during the winter months to avoid damage from heavy rain and snowfall.
The size of the concrete foundations are smaller than some alternative shade structures, which makes it a cost-effective solution.
Shade sails are an excellent choice for creating small areas of architectural intrigue. However, for customers that want to cover an area of 36 metres squared and above, or want a fully waterproof and permanent solution – then a tensile canopy would be a better option.
What Are Tensile Canopies Made Out of?
On the other hand, tensile fabric structures consist of a PVC-coated polyester membrane that is fully waterproof and can withstand the most inclement weather conditions. Come rain or shine, a good quality tensile fabric canopy will provide a 20-25 year life expectancy.
ArcCan tensile fabric canopies are made from only the highest quality pre-tensioned and lacquered PVC-coated fabrics, offering up to 100% UV protection.
The considerably heavier weight and engineering cost of tensile canopies make them a more suitable solution for permanent installations as opposed to temporary uses.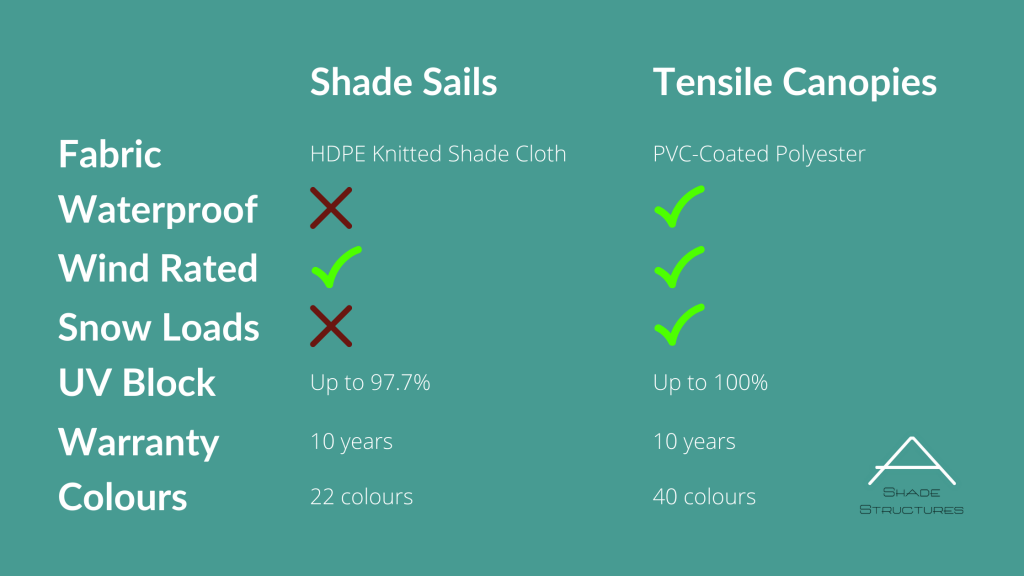 Benefits of ArcCan Commercial-Grade Shade Sails
Reducing sun exposure for safe and extended time outdoors by providing 89.3% – 97.7% UV protection
Long term value and piece of mind – 10 year warranty
22 vibrant colours available
Fully wind rated
Our shade sails are 100% recylcable
Shade Sail Case Study – Brighton Seafront
We have fitted a number of our Coolspan shade sails at the Peter Pan & King's Road playgrounds on Brighton seafront which have been there since 2010. The sails are light and provide essential shading during hot weather in the summer.
Brighton & Hove City Council opted for a cleaning & maintenance plan which includes one trip to take down the sails (usually in October), clean & storage over the winter, and then a subsequent trip to re-fit in the spring. This maximises the lifespan of the shade sails and ensures the safety of the children visiting the playgrounds.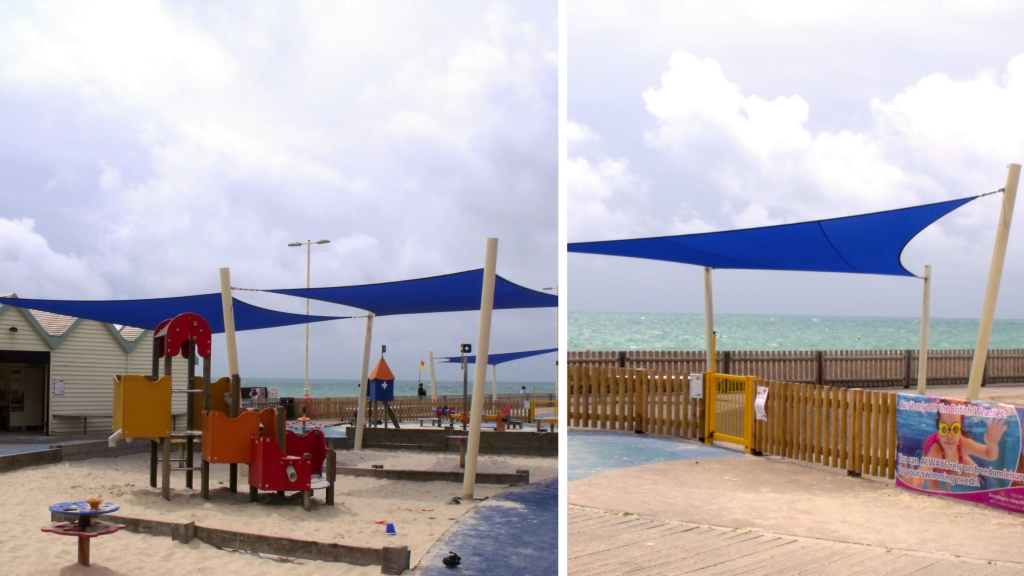 Benefits of ArcCan Tensile Canopies
Reducing sun exposure for safe and extended time outdoors by providing up to 100% UV protection
A fully waterproof and all-weather shading solution
Long term value and piece of mind – 10 year warranty
40 vibrant colours available
Suitable for all applications and can cover any size imaginable
Tensile Canopy Case Study – Moto Services
JWA Architects contacted us to design, supply and install a waterproof covered walkway in the area adjacent to the food and retail outlets in the external courtyard.
Moto wanted to see an increase in footfall and dwell time as they knew it would maximise the occupants' sales potential, including Cornish Pasty Co and WH Smith. An all-weather shading solution was required and that's exactly what the client got and more. The feedback that we received from both the architect and Moto upon completion was very complimentary.
To read more about the stunning covered walkway we installed at Moto Services, click here.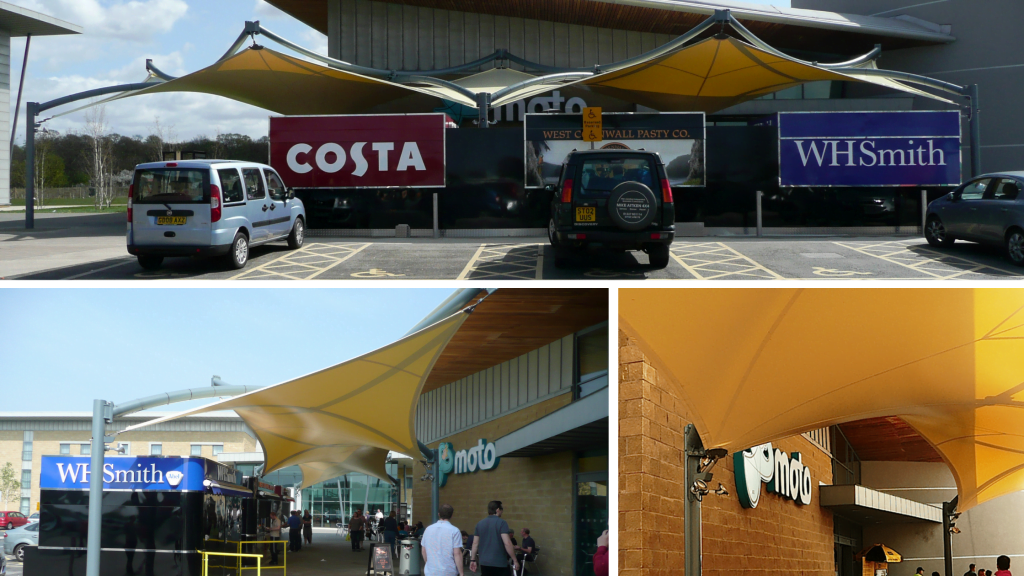 The Bottom Line
Now you know the difference between a shade sail and a tensile fabric canopy and the main characteristics and advantages of each shading option. As you may have realised, it's not as simple as one is better than the other.
Both have their merits, and it largely depends on the project requirement and client taste. In some instances, a shade sail would be more suitable, such as in a play area where a little bit of summer shade is required. Other times, a tensile canopy is the only way forward.
Enjoyed this post?
Sign up to our mailing to receive similar insights.