The Sustainability of Tensile Fabric Structures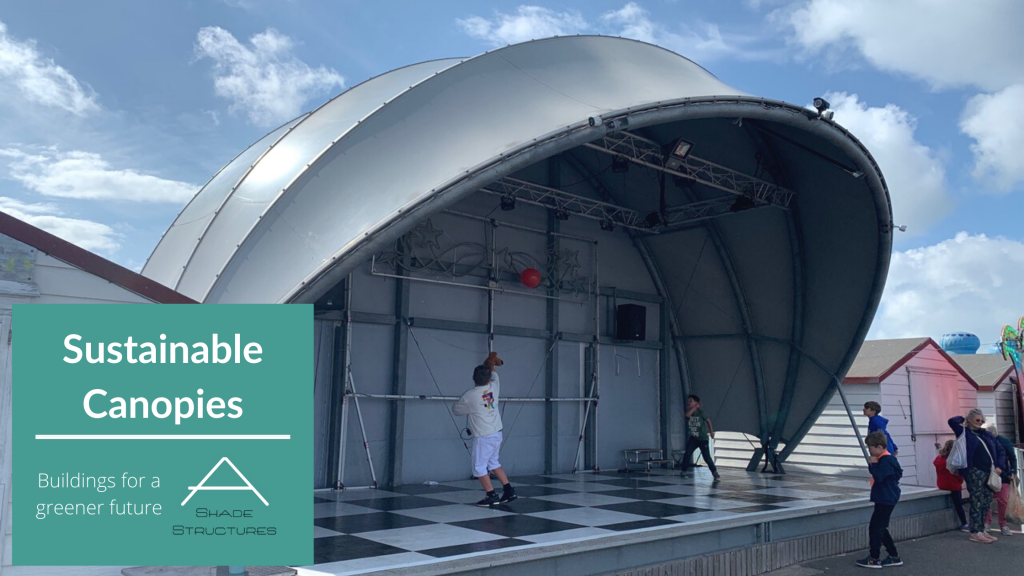 We all want to play a part in building a more sustainable future both as an individual and in business. In construction, adopting more sustainable building methods will increase positive brand association and reduce costs both in the short term and long term.
You may be aware of some of the more prominent advantages of tensile fabric structures – UV and rainwater protection being one of them, but do you know about the sustainability of fabric canopies?
Reduced Energy Consumption
This is important for businesses and organisations who are watching the pennies as well as being concerned for the environment. In the summer, when sunlight hits the surface of a building it increases the temperature of the building.
The advantage of tensile systems is that they produce shade and block UV rays from hitting the building which reduces the demand on air-conditioning units. This also reduces the amount of damage to furniture caused by fading.
Also, most tensile fabric materials bring in natural light to a building that can save a business thousands of pounds in artificial lighting.
Recyclable Materials
It's possible to recycle a tensile fabric structure in its entirety, from the steelwork and fixings to the fabric, which has a manufacturer-supported recycling process. Most PVC membranes are easy to remove and are widely recycled across the globe.
Fewer Materials
Compared to traditional building materials, tensile structures are made from fewer raw materials and are lighter in weight. A superior strength-to-weight ratio and ability to withhold extreme loads means it's possible to build free-span roofs with a minimal amount of supporting steelwork.
Not only does cut down on emissions caused by manufacturing, it often results in faster lead times and more cost-effective builds.
Long Lifespans
With a proper aftercare and maintenance plan that is pro-active rather than reactive, the maintenance required on tensile fabric structures is relatively insignificant when compared to other buildings. A fabric structure is an all-weather solution capable of providing up to 30 years of permanent use (or more).
Conclusion
If you are looking to create a sheltered area that offers a significant warranty, is architectural and is environmentally sustainable – then there are few alternatives out there that come close to comparison in this regard. It's because of their reduced energy performance, recyclable and minimal materials, low maintenance that tensile structures are a sustainable long-term choice.
Enjoyed this post?
Sign up to our mailing to receive similar insights.